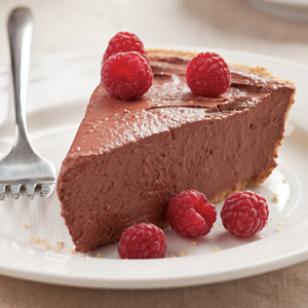 A 15-minute no-bake chocolate pie? Yes, it is possible! We cut down on time by using a food processor to mix everything together. All you need to do is melt some chocolate chips, whiz them together with the secret ingredient, add a splash of maple syrup and a capful of vanilla, stir in raspberries and just 1/2 cup confectioners' sugar and dump it all (decoratively, of course) in a graham cracker crust. (See below for the recipe.)
No one who takes a bite of the resulting luscious chocolate-ness will guess what the secret ingredient is that makes this pie so creamy and healthy. This chocolate raspberry pie gets an amazing smooth, rich, creamy texture from—wait for it—silken tofu. That means you don't have to use butter, heavy whipping cream or cream cheese found in many other, not-so-light pie recipes. This healthy swap can save you up to 200 calories and 22 grams of fat.
If you thought tofu was only for vegetarians, think again. Not only does this soy superfood substitute for meat in stir-fries and salads, it adds protein and texture to all types of recipes—even desserts! Emerging research also suggests that the isoflavones in tofu and other soyfoods could help postmenopausal women look younger by decreasing wrinkles and increasing skin-firming collagen. If you needed an excuse to eat chocolate pie, that should do it.
So break out the food processor and whip up our Chocolate Raspberry Tofu Pie (featured in the
July/August 2012
issue of
EatingWell
Magazine and in
EatingWell Fast & Flavorful Meatless Meals
cookbook). It's so easy (no baking required), delicious and (secretly) good for you.