It's already started: just the other day I ran into my neighbors as they were admiring their garden. "Looks like we've got a lot of zucchini coming in," one of them said. "Would you like some?"
Yes, I would. It seems like everyone has zucchini to offer this time of year—it's one of the most easy-to-grow garden veggies out there and a staple of supermarkets, farmers' markets and backyard gardens alike. Finding ways to use it all is one of summer's delicious challenges.
It's a challenge I'm always up for. Zukes have a mild, grassy flavor that pairs well with almost anything. They're great raw in salads, grilled, sautéed or stuffed. You can even cook the blossoms! At about 70¢ a pound this time of year, they're amazingly cheap too. While they are low in calories, just 15 calories in a 3/4-cup serving, they're rich in potassium, which promotes healthy blood pressure, as well as immunity-supporting vitamins C, A and B6. They also have plenty of zeaxanthin, which is good for your eyes. (Be sure you eat zucchini with the skin on—that's where most of the nutrients are.)
When shopping for zucchini, reach for ones on the smaller side—6 to 8 inches is best. Remember that extra-small zucchini will be extra-sweet and have smaller seeds too. Avoid any with wrinkles, gashes or soft spots. You can store them in a plastic bag in your crisper for up to a week, so don't be afraid to accept a few extra if your neighbor is offering.
Here are some tasty ways to use this delicious veggie, along with a killer recipe for one of my favorites: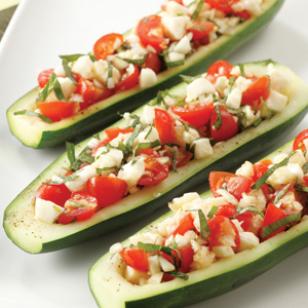 1. Stuff it:
Zu-Canoes
Zucchini stuffed with tomatoes, mozzarella and basil make a fresh summer side dish. For the nicest presentation, use long, relatively skinny zucchini.