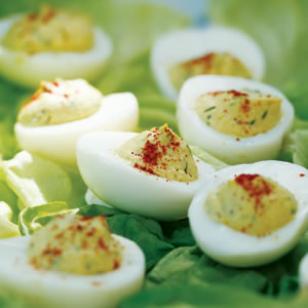 My sister and her husband have a lot of parties and they have the perfect setting: a big, beautifully restored barn in the Finger Lakes region. They have enough glasses, plates and silverware to entertain dozens of people—plus that special platter designed to hold dozens of deviled eggs, with an indentation for each creamy white-and-yellow oval. My sister makes a killer deviled egg, too, and they disappear about as fast as she can fill the platter.
Popular as these two-bite appetizers are, they're not typically healthy. Classic deviled egg recipes are loaded with fat and calories. I may not be as popular as my sister, but when I make EatingWell's healthier version of deviled eggs, which has about two-thirds the calories of a classic recipe, half the total fat and about 25% less cholesterol and sodium, I make friends fast. Here's how the numbers compare:
| | |
| --- | --- |
| EatingWell Deviled Eggs | Classic Deviled Eggs |
| Calories: 34 | Calories: 58 |
| Fat: 2 grams | Fat: 4 grams |
| Saturated Fat: 1 gram | Saturated Fat: 1 gram |
| Cholesterol: 71 mg | Cholesterol: 94 mg |
| Sodium: 85 mg | Sodium: 115 mg |
The best deviled eggs are smooth and creamy and the filling has the perfect balance of tangy and salty flavors. Here are our 6 simple secrets for perfect, crowd-pleasing—and healthier—deviled eggs that I've learned from EatingWell's food editor Jessie Price, followed by the recipe.
• Don't go for the freshest eggs you can find. I know that sounds odd and for most applications the fresher the better. But in this case, you don't want to use eggs straight from the farm, as they're harder to peel and you'll end up losing half the whites in the process.
• Don't overcook the eggs. I used to put them in water and boil for 12 minutes at a hard boil. Now I know gentler is better so that the yolks get just set, but not overcooked. Place the eggs in a saucepan filled with cool water. Bring the water to a boil, then reduce to a gentle simmer and cook for 10 minutes.
• Peel like a pro. After you boil the eggs run them under a little cold water so that they're cool enough to handle. Then crack them all over and put them in cold water to finish cooling. This makes them easier to peel.
• Use two-thirds of the yolks. (The yolks have most of the calories and fat in eggs. One yolk has 5 grams of fat and 54 calories compared with only 16 calories and no fat in an egg white.) Instead, use nonfat cottage cheese to stand in for some of the yolks—it keeps the filling velvety and rich while reducing some of the fat.
• Instead of regular mayo choose low-fat. It has 15 calories per tablespoon and 1 gram of fat. It really is a miracle in creating velvety filing.
• When it comes to a classic-tasting deviled egg, you must use yellow mustard. It has the right acidity and saltiness that adds a special punch. (If you're a mustard snob, do a blend of a more high-brow mustard with a little yellow mustard.)
Most of all, have fun! You don't have to go just straight up and put mustard, mayo and paprika in your filling. Think of fun mix-ins like anchovies, olives, sun-dried tomatoes, chives, cilantro or Tabasco. Or even try stuffing them with guacamole. And don't forget this important food-safety tip: don't leave them out longer than a couple hours. (When you bring out these little beauties, your guests will eat them much faster than that anyway!)
Get the Recipe:
EatingWell Deviled Eggs
Makes: 24 servings
Active time: 20 minutes | Total: 20 minutes | To make ahead: Cover and refrigerate for up to 1 day.
Deviled eggs are a perennial potluck favorite. Our recipe replaces some of the egg yolks with nonfat cottage cheese—keeping the filling velvety and rich while reducing some of the fat. No one will know the difference.
12 large hard-boiled eggs (see Tip), peeled
1/3 cup nonfat cottage cheese
1/4 cup low-fat mayonnaise
3 tablespoons minced fresh chives or scallion greens
1 tablespoon sweet pickle relish
2 teaspoons yellow mustard
1/8 teaspoon salt
Paprika for garnish
1. Halve eggs lengthwise with a sharp knife. Gently remove the yolks. Place 16 yolk halves in a food processor (discard the remaining 8 yolk halves). Add cottage cheese, mayonnaise, chives (or scallion greens), relish, mustard and salt; process until smooth.
2. Spoon about 2 teaspoons yolk mixture into each egg white half. Sprinkle with paprika, if desired.
Per serving: 34 calories; 2 g fat (1 g sat, 1 g mono); 71 mg cholesterol; 1 g carbohydrate; 0 g added sugars; 3 g protein; 0 g fiber; 85 mg sodium; 31 mg potassium.
Tip: To hard-boil eggs: Place eggs in a single layer in a saucepan; cover with water. Bring to a simmer over medium-high heat. Reduce heat to low and cook at the barest simmer for 10 minutes. Remove from heat, pour out hot water and cover the eggs with ice-cold water. Let stand until cool enough to handle before peeling.