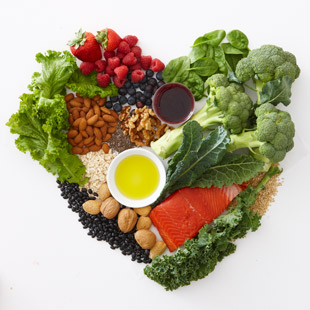 How much do you know about eating for a healthy heart? Take this quiz.
Quiz yourself on your knowledge of heart health.
How many Americans die from heart disease each year?
A) 20,000
B) 75,000
C) 350,000
D) 900,000
Answer: D. The latest statistics suggest that nearly 900,000 Americans die from heart disease each year—that's 36% of all deaths. Cancer claims about 550,000 lives; accidents are responsible for 108,694 deaths; and HIV/AIDS kills about 13,000 Americans annually.
As salt intake increases, so does your blood pressure. Which food is high in sodium?
A) Potato chips
B) Cereal
C) Cookies
D) Cheese
E) All of the above
Answer: E. All the foods listed above contain considerable amounts of sodium. In fact, some cereals have more sodium than potato chips. Even if you don't add a single dash of salt to food, you could be getting too much sodium. Most of us take in more sodium through convenience foods than by using table salt.
Studies show that moderate alcohol intake is associated with reduced risk of cardiovascular disease. Which is considered a "drink"?
A) A 12-ounce bottle of beer
B) A 4-ounce glass of wine
C) 1½-ounce shot of 80-proof vodka
D) 1 ounce of 100-proof alcohol
E) All of the above
Answer: E. Each is considered "a drink." Men should only have up to two alcoholic drinks per day; women should stick to one drink.
Which of the following supplements should you take to reduce your risk of heart disease?
A) Selenium
B) Vitamin E
C) Vitamins B6 and B12
D) Vitamin C
E) None of the above
Answer: E. None of the above. There is not sufficient science to justify taking antioxidant (or other types of nutritional) supplements to prevent heart disease.
Which symptoms of a heart attack are most common to women?
A) Chest pain or discomfort
B) Shortness of breath
C) Nausea/vomiting
D) Back or jaw pain
E) All of the above
Answer: E. All of the above. As with men, a woman's most common heart attack symptom is chest pain. But women are somewhat more likely than men to experience other common symptoms (some of which mimic a bad case of indigestion). Experiencing chest discomfort, particularly with one or more of the other signs listed above, for more than five minutes warrants seeking medical attention.