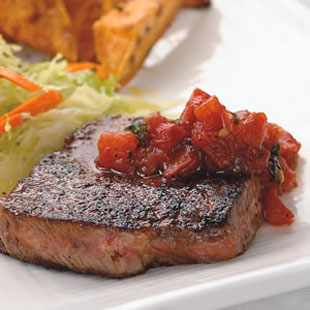 My husband, Dan, and I had a crazy-busy summer. We went on several really fun road trips and we ate a lot of unhealthy food that added a few extra pounds. So to get back on track and recharge our lives with healthy eating, we're planning low-calorie dinners in advance and loading our weekly menu with
20-minute dinner recipes
. Here are 4 meals on our menu this week:
1. Chili-Rubbed Steaks & Pan Salsa
– Any cut of steak will work for this recipe, but we especially like the flavor and texture of rib-eye with these seasonings; look for steak that has been thinly cut. A cold ale, sweet potato fries and vinegary coleslaw can round out the meal.
2. Turkey & Fontina Melts
– An elegant presentation of turkey layered with spinach and cheese, yet surprisingly quick to make. Round out the meal with a side of whole-wheat pasta, a salad and a glass of Pinot Noir.
3. Black Bean-Garlic Catfish
– This dish is great for folks who are on the fence about catfish because the pungent black bean-garlic sauce balances the fish's strong flavor. Serve with udon noodles or brown rice and sauteed broccoli with ginger broccoli.
4. Italian Vegetable Hoagies
– This delightfully easy, and somewhat messy, sandwich packs a punch with sweet balsamic vinegar, artichoke hearts, red onion, provolone cheese and zesty pepperoncini. Serve with tomato and cucumber salad.