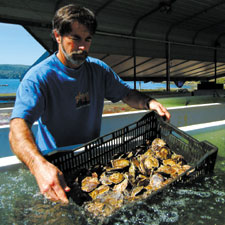 Boulder County Farmers' Market, Boulder, CO
Sat., 8:00 a.m. to 2:00 p.m.; Wed., 4:00 to 8:00 p.m., on Thirteenth Street next to Central Park | boulderfarmers.org
What now bills itself as "the largest and friendliest farmers market in Colorado" began as sporadic events on the courthouse steps until 1986 when local farmers banded together to lobby the city for a place to sell directly to consumers. Look for Morton's Orchards, which manages to have organic peaches all summer as well as delightful cherries and apricots in the heat of July. Stop by Divine Farmer Herbals for an herb salad or home remedies. Capital City Farmers' Market, Montpelier, VT
Sat., 9:00 a.m. to 1:00 p.m., at 60 State Street | localharvest.org
With just 40 very-local vendors, this is the essence of the old-time farmers' market. Don't be in a rush: locals like to chat while picking up burstingly ripe tomatoes. In June, don't miss strawberries from Rosemary and Gerard Croizet's Berry Creek Farm or Lazy Lady's cheeses: Laini Fondiller—hardly lazy—has her goats making the creamiest chèvre around. (She's none too sentimental about those goats; ask for goat burgers from the ice chest.) Knitters should stop by The Wool Shed's booth—Barbara Tonnissen of Frostbite Falls Farm spins and dyes unbelievably soft yarn from her own sheep.
Santa Fe Farmers Market, Santa Fe, NM
Sat. & Tues., 7:00 a.m. to noon, at the DeVargas Center parking lot; Thurs., 3:00 to 6:30 p.m., Santa Fe Place | santafefarmersmarket.com
One of the country's oldest continuing farmers' markets began in the late 1960s. Now with more than 100 local growers, the Santa Fe Farmers Market goes way beyond the Southwestern cliché. Sure, there are ristras in December, smoked chiles in the summer and buffalo steaks year-round from LaMont's. But get your fill of pistachios from Pistachio Tree Ranch or certified-organic beets, eggplant and spinach from Santa Cruz Farms. Make sure you get a box of Heidi Eleftheriou's organic raspberries from nearby Corrales.
Simply Homegrown, Clayton, GA
Sat., 9:00 a.m. to noon, off the corner of Savannah & Main Streets | simplyhomegrown.net
Befitting its small-town roots, Simply Homegrown in Rabun County is welcoming and slow-paced. Most produce is sustainably grown and comes from just three counties (Rabun and adjacent Macon and Oconee)—so it's never wilted from a long truck ride. Stock up on organic cukes and beans from the friendly people at La Gracia or get heirloom stone-ground grits from Barker's Creek Mill.
Santa Cruz River Farmers' Market, Tucson, AZ
Thurs., 4:00 to 7:00 p.m., Santa Cruz River Park | localharvest.org
The desert blooms at this small market, one of several in the Tucson area: peaches and apricots are the hit of spring; pumpkins and corn, fall wonders. Look for heirloom tomatoes early in the season. Native medicinal herbs abound—as well as organic, adapted plants like red garlic, a strong bite for any sauté.