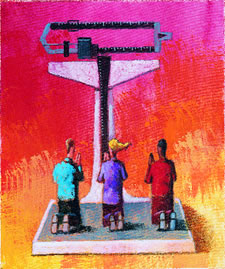 Faith-based weight-loss programs pros and cons
Losing weight can be frustrating so it's not surprising that more and more dieters are turning to divine intervention by way of faith-based weight-loss programs. One such program, Weigh Down Workshop started by a Nashville dietitian in 1986, holds thousands of seminars, worldwide, each year. This and other group-based programs tell "disciples" to stop dieting and start praying for strength in the battle against overeating. People seeking a more personal relationship can choose from a variety of Bible-based diet books, such as bestsellers The Maker's Diet by Jordan Rubin and Ben Lerner's Body By God. Unlike group-based programs, such books often prescribe "eating commandments;" for example "nix unnatural 'man-made' food products."
Supporting Evidence: There's no science to show that faith-based weight-loss plans are more effective than secular ones, but prominent programs (including Weigh Down and a similar, smaller, program called Thin Within) center upon an effective weight-loss component: fellowship. A recent report in the British Medical Journal replicates findings from scores of previous studies that suggest group support makes losing weight easier. What's more, in a 2004 study out of Widener University, African-American women who participated in health promotion programs at their churches cited the "trusting relationships with others in their spiritual circle" as an important motivating factor for making positive lifestyle changes. As for whether turning one's focus to God—versus Godiva—in weak moments actually curbs overeating: there isn't empirical support. Anecdotal reports, however, suggest that it works for some people.
Pros: Many of these programs promote supportive environments and encourage healthy lifestyle changes. Also, to some, a program with a spiritual spin may seem more purposeful than other weight-loss methods. "We're always looking for meaningful ways to reach people," says Jean Harvey-Berino, Ph.D., R.D., chair of the nutrition department at the University of Vermont and an EatingWell advisor. "A spiritual component certainly may speak to some."
Cons: Some faith-based diets (books, in particular) preach inaccurate claims. Be wary of "miracle" regimens, warns Harvey-Berino: "If a diet makes claims about a magic food or tries to sell you something you don't need, it's likely too good to be true."
Our Verdict: The best faith-based diets bring hope, meaning and, sometimes, helpful group support to the weight-loss quest. However, be careful of any regime that plays upon spiritual beliefs to propagate unhealthy fad diet behaviors.
—Elisa Ludwig