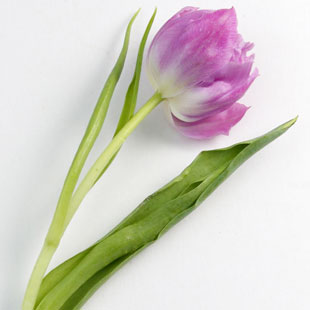 Author Laura Fraser shares her essay on heartbreak and recovery and the meal that helped.
Winner of the International Association of Culinary Professionals' Bert Greene Award in the Essay division.
At home, I keep a framed photo of myself clinking wineglasses with a friend at dinner. It's not flattering: I look wan and worn out, with red-rimmed eyes, cheeks flushed. But the expression the camera caught is one of pure contentment. The photo was taken at Chez Panisse, in Berkeley, on May 8, 1997. I remember the date because on May 7, my husband left me. Up until dinner, May 8 was perhaps the worst day of my life. I spent most of it in bed, trying to grasp my new reality, that the man I loved and married and planned to have children with had left me, abruptly, for someone else. I'd been lied to, cheated on, abandoned—and I had a dinner reservation that evening at the restaurant that made Alice Waters famous for her fresh-from-the-farm approach to cooking. Ironically, the dinner with my longtime friend Larry was payment for a bet I lost about which of us would get married first. We'd made the wager years before, when I thought I was too free-spirited to settle down, before I met the man who changed my mind. After I wed, Larry got married, too, and each of our lives got busier. Finally, our schedules coincided with a day we could get a reservation. That it turned out to be the day after my husband left me made me laugh at the universe in spite of my sadness. When I told Larry the news, he asked if I wanted to cancel dinner. But I needed a reason to get out of bed, and that day, dinner at my favorite restaurant was the only one that would work. I might cry through every course, but I was going. I met Larry at the entryway to the dark-wood Arts & Crafts building, greeted by a spray of wildflowers and a large bowl of seasonal fruit. We were seated in a cozy corner, with a view of the kitchen and its copper pots. We started with a glass of champagne and a plate of Hog Island oysters on the half shell with little sausages. The oysters were so fresh they tasted like my tears. I closed my eyes to feel the sensation of the sea. Larry chatted about wine with the server, chose something French, and started telling me about novels he'd enjoyed recently. He knew better than to ask how I was feeling. After the oysters came a fish and shellfish soup, with a delicate broth of fennel and leeks. The flavors were so subtle and perfectly balanced that my mind had to close off everything else and rest on my taste buds. There was no room in my consciousness for heartbreak, divorce and having to move out of my house, only space for a soup whose flavors shimmered like gold. The server poured a dark-hued Bandol wine, ripe and inviting. The flavors spread across my mouth into a smile. The main course arrived, an earthy grilled duck breast with rhubarb sauce and roasted turnips. The rhubarb brought me back to my childhood, when I would pick the bitter stalks from my grandmother's garden and we would make my favorite pink stew. My grandmother is gone, but rhubarb is as permanent as my memories of her. The rhubarb duck comforted me with its familiarity; no matter what happens, in spring there is always rhubarb. When dessert came, a berry feuilleté, perfect little fresh spring berries in the lightest and flakiest of pastry, Larry uttered a French expression of delight. He said the meal made up for the time, years before, when we'd gone bicycling on Thanksgiving when everything was closed and all we could find for dinner was mango juice and pretzels. At that moment, the Chez Panisse meal was making up for so much more. The server snapped our photo as we finished our wine. I would go back to my tears the next day, and it would be months before such a look of contentment would cross my face again. But at that moment, sharing a wonderful meal with a friend, the last pastry flake melting on my tongue like snow, I was happy. And every time I looked at that photo during the dark times that followed, I knew I would be happy again.
—Laura Fraser is the author of the bestselling travel memoir The Italian Affair and Losing It, an exposé of the diet industry.