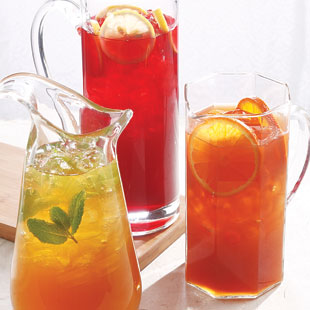 I'm a huge fan of tea. Hot or cold, I just love it. I drink it all day long in the winter and I always have a big pitcher of iced tea in my fridge in the summer. Luckily tea is a healthy addiction. (
Find out how tea can help your health and get the secret to maximizing tea's health benefits.
)
I must have inherited my love of iced tea from my dad. Whenever I'm on the back patio at his house in the summer there are always at least two big glass containers filled with his special sun tea blend with mint and cloves.
Like
lemonade and other refreshing summer drink recipes
, making your own iced tea is easy. Pick your favorite types of tea and get started with these delicious iced-tea blends:
Hibiscus-Pomegranate Iced Tea
: Steep 1/4 cup loose hibiscus tea (or 12 herbal tea bags that contain hibiscus) in 4 cups boiling water for 3 to 5 minutes. (If you have a large tea ball, you can use it to steep loose tea). Strain (or remove tea bags or ball) and pour into a large pitcher. Stir in 1 cup pomegranate juice (or nectar) and 4 cups cold water. Refrigerate until chilled. Serve over ice with lemon slices.
Want something a little more super-charged? Try this
Iced Mint Green Tea
that's blended with sake.