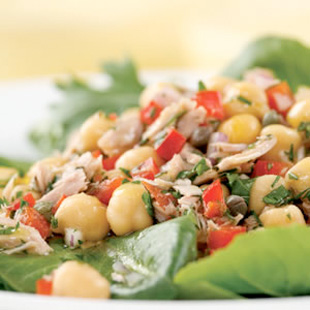 As a kid I used to spend my summer vacation at the beach soaking up the sun. These days, not so much—I'm way too worried about
keeping my skin wrinkle-free
. But my fiancé Andy's job keeps him outside in the sun all day long. Not just in the summer, but all year round. Although he wears sunscreen, he's kind of given up on trying to ward off wrinkles, but skin cancer? That's scary stuff—and sunscreen can only do so much.
So to help protect our skin (especially his!) we're adding more salmon and tuna to our diet. (
Find delicious salmon recipes here.
) The omega-3 fatty acids in oily fish like salmon and tuna can boost your skin's defenses against UV damage, according to a recent study in the
American Journal of Clinical Nutrition
. Researchers found that study participants who ate a little more than 5 ounces of omega-3-rich fish each week decreased the development of precancerous skin lesions by almost 30 percent. Scientists think the omega-3s act as a shield, protecting cell walls from free-radical damage.
So next time you head to the beach or spend the day in the garden remember your sunscreen and hat, and cook up one of these omega-3-rich recipes for dinner:
Find more tuna recipes here.
Mediterranean Tuna Antipasto Salad
– Also packed with protein and fiber, this tuna and bean salad is ready in a flash. Serve with warm, crusty bread or pack it in a pita for a sandwich.
Salmon Burgers with Green Goddess Sauce
– The key to perfect salmon burgers is to handle the fish delicately: don't overseason, overhandle or overcook it. Serve over a bed of salad greens with the Green Goddess Sauce dolloped on top or as a traditional burger using the sauce as a spread for the bun.