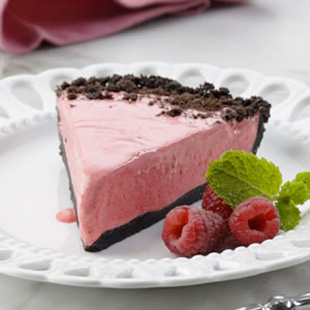 We've been having an ongoing debate here in the EatingWell Test Kitchen about which berry is the best. When I initially brought up this question I thought the correct answer would be
totally obvious
to everyone. But of the six of us involved in that initial debate, only I seemed to be clued in to the fact that the only choice that's truly deserving of that number one ranking is
raspberries
. (Four people picked strawberries and one picked blueberries as their first choice.)
So in the spirit of our summer fruit debate I thought I'd share a couple of my favorite EatingWell
raspberry dessert recipes
, including decadent Frozen Raspberry Pie, with those of you who love raspberries as much as I do.
My sister, Katie Webster, developed this amazing Raspberry Spoonbread for EatingWell's August issue. If you're not a spoonbread afficionado now's the time to try it. Serve it warm and you won't be disappointed.
Raspberries with chocolate. Come to think of it, maybe that should have been its own item in the ranking. After all, that combination is nothing short of KILLER! This Chocolate-Raspberry Frozen Yogurt Pop is irresistibly tangy and it's loaded with chocolate chips. Plus at 87 calories it won't break the bank calorie-wise. I could eat one of these every day.
I'm sure I've said it before, but I'll say it again: this Raspberry-Almond Crumb Tart is genius. I love this particular recipe because it is just so darned easy. It takes 20 minutes to assemble, but it comes out looking like you could have bought it from a fancy bakery. And the flavor is perfect for a raspberry lover…not too sweet.
This Frozen Raspberry Pie is a little bit more of a labor of love than the tart is. (There is a double boiler and strained raspberry puree involved.) But my thinking is, when raspberries are in season, there's almost nothing I wouldn't do for them. This creamy, luscious pie is made by combining a fluffy cooked meringue with a raspberry puree, then pouring the mixture into a chocolate-cookie crust. To make ahead: Cover with plastic wrap and store in the freezer for up to 2 weeks.