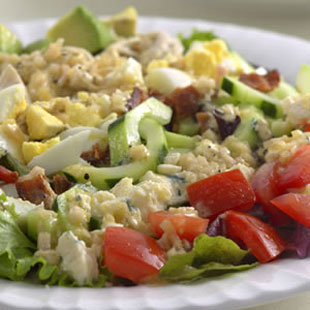 If you're like me, when you first start working toward a goal, such as weight loss, you're motivated. The pounds come off easily; you're meticulous about exercising and watching what you eat. But, eventually, your rate of weight loss slows and then… stops. Don't worry—this is not the beginning of the end! It's the beginning of the second phase of your weight-loss journey.
Fill up on less.
Loading up on high-fiber foods like vegetables can help you feel full and prevent you from overdoing it on higher-calorie fare later.
Satisfying salads
, such as
The EatingWell Cobb Salad
(just 346 calories), are a great way to feel full on less.
Jump-start your fitness routine.
Set a weekly goal to burn 1,000 calories through "programmed" aerobic exercise—such as brisk walking or jogging, cycling or rowing. You can assume that you burn about 100 calories for each mile you walk or run—which means that to hit 1,000 calories, you'll need to put in two miles a day, five days a week. If you're cycling, estimate 100 calories for every three miles you ride. (
Get some easy ideas for building an exercise routine here.
)
Looking for something that doesn't feel like a "workout"?
Try these 6 ways to sneak in your exercise.
Take the guesswork out of portion control.
It's easy to get carried away with a bag of pretzels or a sleeve of cookies. Stick to snacks that offer built-in portion control.
Here are ideas for 10 days of 100-calorie (or less) snacks.
Also try
Turkey & Pepper Roll-Ups
(114 calories for two), a piece of fruit or those handy 100-calorie packages.