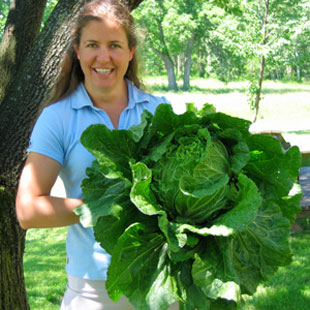 The other day we needed cabbage for a photo shoot here at EatingWell. We bought a few heads at the grocery store and I picked some from my mom's garden. (Here's me with a head of Napa cabbage.)
The difference between the store-bought cabbage and the garden heads was striking. Here's a shot of two heads of Savoy: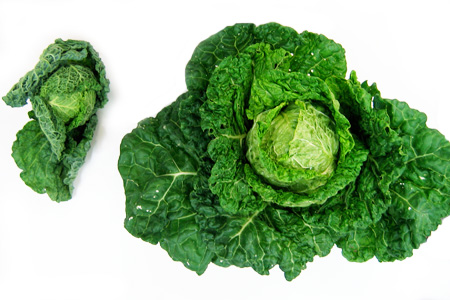 Not hard to tell which one was from the garden, right? Of course, the big beautiful one. That garden cabbage was so gorgeous and massive that when my co-workers saw it sitting in the Test Kitchen, they rushed in to check it out. The excitement got me thinking about
my favorite cabbage recipes
. I was so inspired that I went home with a head of Savoy and made
Roasted Savoy Cabbage with Black Bean-Garlic Sauce
.
There was still a lot of cabbage to use, so I decided to start cooking my way through some of my other favorite recipes for cabbage. As a health bonus, cabbage is a nutritional powerhouse. It's rich in vitamin C and fiber and supplies isothiocyanates—chemicals that amp up the body's natural detoxification systems. Studies suggest that cabbage may help fight breast, lung, colon and other types of cancer.
Here are some of my favorite summertime cabbage recipes:
Hot & Sour Slaw
– It would be inexcusable not to mention at least one coleslaw. I happen to prefer an oil-and-vinegar-based recipe. With a balance of tang and sweet and some hot red pepper, this version fits the bill perfectly.
Chinese Chicken & Noodle Salad
– A healthier version of this classic salad comes with crispy ramen noodles. The dressing is an addictive orange, sesame, ginger and soy combination—you may want to double the dressing and save some for a salad the next day.
Quick Kimchi
– I love spicy foods, so Korean food and kimchi are right up my alley. This isn't traditional kimchi (which is buried and fermented). This is a nonfussy quick method and it sure is delicious.
Napa Cabbage & Carrots with Rice Wine-Oyster Sauce
– A quick stir-fry for an easy weeknight side. Throw in some tofu or shrimp and serve with brown rice to make it a meal.