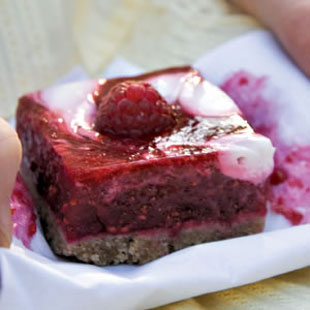 Last summer my husband and I were talking and he casually mentioned that the hillside at his dad's cabin, a mere 30 minutes from our apartment, was covered in raspberry bushes. I don't know what was worse—that he waited 5 years to tell me or that I never noticed that they were there.
That afternoon I hightailed it to the raspberry haven, dressed in long sleeves (those raspberry bushes are thorny!), and picked my heart out. In the days that followed, we ate raspberries—with pork chops, in salads, bars and spoonbread.
Here are
my favorite raspberry recipes
so you can have your own raspberry fest. Even if you are just picking the raspberries up at the store, these dishes will be equally delicious. (Love other berries too?
Try these summery recipes for strawberries and blueberries.
)
Raspberry Bars
– Tart raspberry filling is swirled into a low-fat cream filling in these beautiful bars. They're a festive treat for a summer picnic or party.
Raspberry-Glazed Pork Chops with Pickled Onions
– The thick flavorful raspberry sauce, rich pork chops and pickled onions all come together in an explosion of flavors and textures.
Raspberry Spoonbread
– My favorite recipe from the latest issue of EatingWell, this maple-sweetened cornmeal cake, studded with raspberries, comes together in just 30 minutes.
Couscous & Fruit Salad
– Try this fruit-and-nut-studded couscous salad alongside grilled salmon or chicken for supper or on its own for a fresh lunchbox treat.