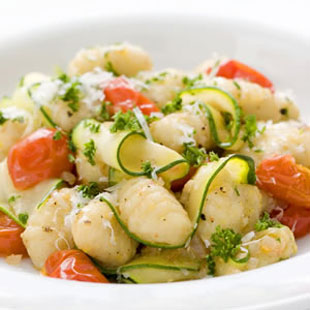 In July and August, I never seem to have enough time in the evenings after work to do everything I want to do—swim, bike, pick berries and cherries, garden and go out on my boat. But around 8 p.m. the mosquitoes finally get me inside to make dinner and at that point I'm HUNGRY. So
dinner recipes that are ready in 20 minutes or less
are my go-to.
Since I try to make dinners using the vegetables I pick in my backyard—tomatoes, zucchini, dark leafy greens, lettuce and lots of fresh herbs—I tend to make a lot of
Italian-inspired recipes
. Here are a few of my favorite speedy summer recipes that can be prepped in 20 minutes.
Gnocchi with Zucchini Ribbons & Parsley Brown Butter
– This recipe is so pretty, I have even served it to guests…no matter that it only takes 20 minutes to prepare. The trick is to cut the zucchini as thinly as possible. If you have a mandoline, use it. Otherwise you can use a vegetable peeler to make thin, lengthwise slices of the zucchini.
Raw Tomato Sauce
– This is amazingly simple—just chop fresh tomatoes, some herbs and garlic, toss together and let it sit until it's juicy. Then toss with pasta. We add mozzarella and olives in this recipe. You could also try adding some thin-sliced prosciutto, pine nuts, minced anchovy or Parmesan.
Italian Vegetable Hoagies
– Typical Italian hoagies come loaded with amazingly delicious (though not so healthy) Italian meats and cheese. I recently had a veggie version in Reading Terminal Market in Philly that blew me away. This is based on that sandwich.
Braised Broccoli Rabe with Orecchiette
– I love broccoli rabe and grow huge rows of it in my garden. Here's a delicious recipe where it's braised in broth along with the pasta. It takes about 35 minutes to complete, but only 20 minutes of that are you actually doing anything. In the other 15 minutes you have time to make a salad or enjoy a glass of wine.