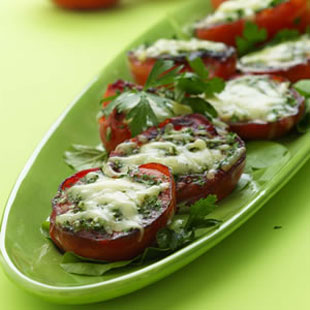 One of my first food memories is going out to our garden with my dad to pluck sun-ripened tomatoes off the vines. My dad's
tomato recipes
were ultra-simple—he'd barely dress the tomatoes with red-wine vinegar, olive oil, salt and pepper and let them sit for about 30 minutes until the juices from the tomatoes released into the dressing. Then we'd dig in, sopping up the liquid with warm bread. It was so simple, and so utterly delicious.
That's the great thing about tomatoes—it takes very little embellishment to make them shine when they're freshly picked and in season. The following recipes highlight their amazing flavor without a lot of fanfare.
Skillet-Seared Tomatoes with Melted Gruyere
– Serve these as a savory side dish to chicken or steak, to complement a meatless meal or as a sandwich on toasted whole-grain bread. A pinch of sugar helps balance the tomatoes' acidity.
Bean & Tomato Salad with Honey Vinaigrette
– This beautiful salad combines fresh tomatoes, green beans, red onions and dried heirloom beans. Recently harvested beans (which are also freshly dried) cook more quickly than the kind you buy year-round at the market. In the latter part of the summer, farmers' markets begin to sell a fresh crop of heirloom varieties that would be perfect for this salad.
Tomato Gratin
– A gratin is any dish topped with cheese or breadcrumbs mixed with butter, then heated until browned—but it needn't be heavy. This one has plenty of garden-fresh tomatoes and herbs, just a touch of full-flavored cheese keeps it healthy and a crispy crumb topping makes it delicious.
Corn & Tomato Sauté
– This simple sauté combines two summer stars—corn and tomatoes. If you don't have fresh basil or tarragon, use whatever herb you have fresh.