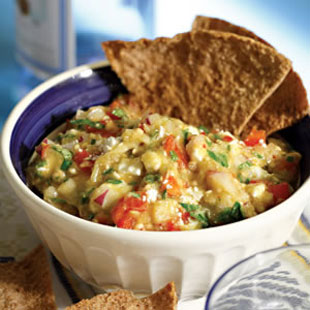 For years I've been
eating the Mediterranean way
, packing my diet with plenty of fresh vegetables and fruits, "good" oils like olive oil, whole grains, nuts and fish. In May I got to eat this way in an actual Mediterranean country—Tunisia!
I enjoyed the delicious local cuisine, which includes couscous, lamb, grilled seafood and lots of fresh veggies. Many of the dishes are prepared with olive oil— a staple in Mediterranean cooking. On my travels I learned about the process of turning olives into olive oil and sampled several different oils. They were light and pungent, and I bought a can of my favorite olive oil to enjoy when I got home. I've used it in some of these
delicious Mediterranean recipes
. Try them and taste Tunisia for yourself!
Roasted Eggplant & Feta Dip
– This roasted eggplant and feta dip gets a kick from a fresh chile pepper and cayenne pepper. Serve with toasted pita crisps or as a sandwich spread.
Tunisian Spiced Lamb Chops & Chard
– A great complement for lamb, the bold dry rub in this recipe is a typical Tunisian combination of spices that includes cumin, caraway and crushed red pepper. Sautéed chard gets a twist with toasted pine nuts and sweet dates.
Tabbouleh with Grilled Vegetables
– Grilled vegetables add a layer of rich, complex flavors to the popular Middle Eastern salad of bulgur and herbs. Serve with whole-wheat pita bread or use as a sandwich filling.
Mediterranean Tuna Antipasto Salad
– Packed with protein and fiber, this tuna and bean salad is ready in a flash. Serve with warm, crusty bread or pack it in a pita for a sandwich. For an extra kick, add a pinch of crushed red pepper or cayenne.