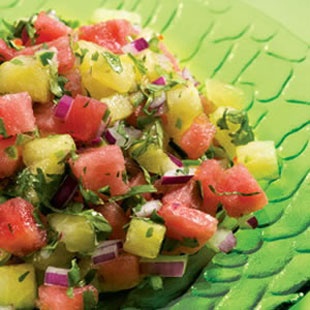 I love biting into a wedge of sweet summer watermelon and letting the juice dribble down my chin. (I've been known to compete in seed-spitting contests with my friends, too.)
As enjoyable as that is,
watermelon can be even more delicious when it's prepared in unexpected ways
—with a little fanfare added. I once devoured a bowlful of
Watermelon Salsa
by myself…in one sitting. I also love watermelon in sweet treats, like frosty beverages and creamy-frozen desserts.
Health bonus:
Watermelon averages 40% more of the cancer-fighter lycopene per serving than tomatoes. Lycopene in watermelon is easily absorbed without cooking, unlike that in tomatoes, and is relatively stable when the fruit is stored and refrigerated.
Load up on your antioxidants and find cool summer refreshment from these delicious watermelon recipes:
Watermelon Salsa
– Sweet, savory and crunchy salsa accompanies grilled pork or chicken nicely. Try it with tortilla chips as a refreshing alternative to a tomato salsa.
Watermelon Agua Fresca
– This refreshing drink is served by roadside vendors all over Mexico. Not too much fruit, not too much sugar, just a beautiful way to quench your thirst on a summer day.
Grilled Shrimp with Melon & Pineapple Salsa
– Grilled shrimp pairs deliciously with this summery pineapple-melon salsa. The flavors are light and fresh, just right for a hot day. Use just one melon or any combination of melons—including watermelon—for this versatile salsa.
Watermelon-Yogurt Ice
– Inspired by creamy watermelon sherbet, this light and refreshing dessert captures the essence of summer.