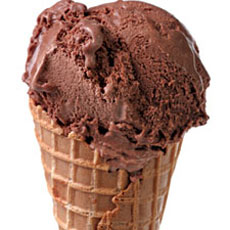 To me, nothing says "it's summer" like
ice cream—sundaes, sandwiches, even frozen yogurt
. I have fond memories of summer vacation at the beach and riding bikes with my cousins to the nearby ice cream shop in the evenings. Back then I always ordered ice cream in a cone.
Recently, I read that licking ice cream is more satisfying than eating with a spoon, so I'm going back to my childhood ways.
"Flavor in ice cream is released when the fat—which carries the flavor—is warmed to at least body temperature," explains Kay McMath, a food technologist for New Zealand's Massey University, in
an article in the August issue of EatingWell magazine
. When you lick ice cream it coats the tongue and fully warms the frozen treat. A spoon, on the other hand, insulates the ice cream. And then there's the psychological aspect of savoring the treat more slowly: You just cannot lick ice cream as fast as you can spoon it.
So whether you make your own, or make a pit-stop at your favorite local ice cream shop, enjoy an ice cream cone! You just might find yourself satisfied with less.
Here are my favorite diet-friendly frozen treats to lick during summer:
Homemade Vanilla Ice Cream:
This simple low-fat vanilla ice cream has all the richness you'll need but about 90 fewer calories than store-bought premium ice cream and a whopping 15 grams less total fat and 10 grams less saturated fat per serving. I like to jazz it up by adding crumbled cookies. (Stir them into the ice cream maker during the last 5 minutes of freezing.)
Raspberry Chocolate Chip Frozen Yogurt:
Jammy raspberries and rich chocolate combine for a delicious, low-calorie frozen yogurt. Mini chocolate chips give you the most chocolate in every lick, but any kind of chip will work.
Banana Pudding Pops:
When it comes to licking, pops rock. These banana popsicles taste rich and decadent but are low-fat and really easy to make. We especially like them with some chocolate chips added.
Strawberry Sherbet:
Buttermilk gives this low-fat sherbet tanginess and complements the chunks of fresh sweet strawberries.