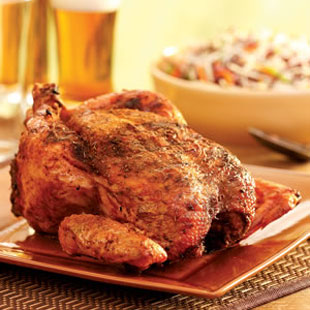 I was being interviewed for a radio show the other day and the host asked me about summer comfort foods—what to grill, what to bring to a party and of course, what's for dessert. I immediately suggested one of my absolute top picks for
summertime comfort food recipes
:
Beer-Barbecued Chicken
. The EatingWell test kitchen developed this recipe as a healthier version of the famous beer can chicken. If you're not familiar with that method, you basically stick a chicken on top of an open can of beer and stand the whole thing up on your grill over indirect heat to yield a moist flavorful chicken. Someone who called into the show said it's also known as "beer-butt chicken." I think I'll go with that name from now on!
Regardless of the name, our recipe makes the most juicy and succulent chicken. Our method doesn't involve a can so you can use a tasty micro brew instead of a less flavorful mass-produced beer. Yes, we can be a bit beer-snobby over here at EatingWell, but the truth is the recipe is amazing with any kind of beer.
Here are my other top picks for healthier versions of summer comfort foods you've got to try:
Pulled Pork
– This is a failsafe recipe that's cooked in the oven. Just get buns, throw on fixin's like pickles, onions and some coleslaw and you've got yourself a party!
Country Potato Salad
– This practically-perfect version of potato salad has both smoked ham and hard boiled eggs. Need I say more?
Zucchini Rice Casserole
– Since it's mid July, you may be swimming in zucchini from the garden like I am. This is one tasty way to use them up. Plus it's a great crowd pleaser and cheap to make too!
Peach-Raspberry Pie
– What says summer more than fruit pie? I'm not typically a baker, but for fruit pie, I make an exception. And this one developed by our Test Kitchen Manager (and pie contest winner) Stacy Fraser has very easy-to-follow instructions. Plus it's made with a lightened up crust of whole-wheat flour and canola oil substituted for some of the butter.