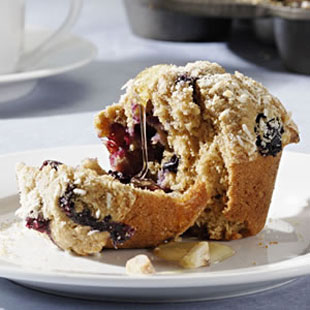 One of my favorite summer activities is berry picking, particularly blueberry picking (best summer fruit EVER!). A local blueberry farm has live music two nights a week, so my friends and I go to picnic and pick berries. We're there for a few hours, and I always manage to pick way too many blueberries (even though I employ the "put-5-in-the-basket, put-handful-in-mouth" strategy).
Since my husband has high blood pressure, we eat a lot of blueberries—
find out how they might help blood pressure and heart health
. We freeze a bunch more and I love cooking with blueberries too. Here are a few of my
favorite summer blueberry recipes
.
Blueberry-Coconut-Macadamia Muffins:
There are certain recipes that come out of the EatingWell Test Kitchen that the staff freaks out about. This is one of them. My co-workers would smell them baking from down the hall (mmm, coconut…) and rush the kitchen when they saw them on the counter.
Blueberry Tart with Walnut Crust:
This super-easy tart comes together in a mere 30 minutes. One review on eatingwell.com says, "This was a MAJOR hit tonight. Rave reviews from our friends—amazing. Just the right balance of sweet and creamy, light and rich, simply delicious!"
Chicken & Blueberry Pasta Salad:
Yes, blueberries and pasta. The addition of poached chicken and feta cheese makes this dish into a light and satisfying summer supper that's also great for a potluck. If you already have some leftover chicken, skip Step 1 and add shredded chicken in Step 4.
Old-Fashioned Fruit Crumble:
Though you can use any fresh or frozen fruit in this recipe, blueberries are my favorite. Make a big batch of the crumble topping and freeze it so you can whip up dessert on the fly.