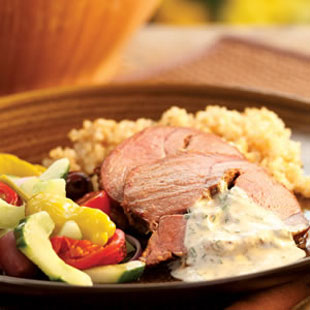 When I left San Francisco to move to Vermont I left behind my terrible sea-air-corroded grill on my fire escape. My first purchase in my new home was a shiny new grill. I was thrilled because grilling is my favorite way to cook. So of course I get into all of the holidays that are about grilling: Memorial Day, Labor Day, July 4th and Father's Day.
This year we included
six grill-roasting recipes in our May/June issue of EatingWell
that are awesome. The idea of grill roasting is that you cook your food on the grill over indirect heat rather than over searing flames. Why do this? It allows you to cook big thick roasts or whole birds without scorching them on the outside and leaving them raw inside. It takes a little while, but you end up with perfectly cooked, juicy meat that has a touch of smoky grill flavor. Plus since you're cooking a big piece of meat it means you can serve a crowd—perfect for a party. It's a fabulous technique. If you do decide to do it, check out our
8 Tips for Foolproof Roasting on the Grill
.
Here's a diagram of how grill roasting works:
Indirect Heat: Gas Grill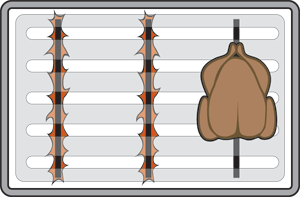 Indirect Heat: Charcoal Grill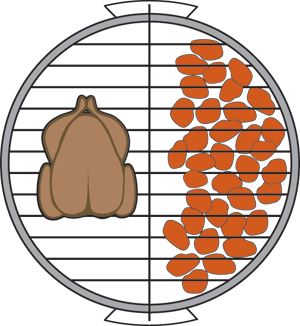 Anyway, as I said, the
6 grill-roasting recipes
turned out really well, but the one that is hands-down the best is the
Middle Eastern Roast Lamb with Tahini Sauce
. This recipe was inspired by the meat you get in a shawarma sandwich. The lamb is rubbed with spices, grill-roasted, and then served with a garlicky-tahini and yogurt sauce. Wrap up the lamb and sauce in a lavash with some tomatoes, cucumbers, olives and feta and you have just stepped up Father's Day to a whole new, totally delicious, gourmet level. I'm not sure what you'll do next year to top it. But be forewarned that you may not be able to go back to sausages, burgers and dogs after trying this recipe. (You could try one of our other grill-roasting recipes, such as
Beer-Barbecued Chicken
, or for more inspiration,
try a recipe from our collection of delicious Father's Day recipes
.)