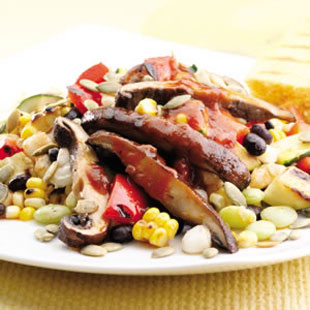 I ate vegetarian for a while, and perhaps the most annoying thing about it was going to a barbecue and seeing that a plain-Jane-veggie-burger-from-a-box was my only option for dinner. Now don't get me wrong, a veggie burger can make a mighty fine meal. But when my meat-eating friends were enjoying smoked ribs slathered with homemade barbecue sauce, I felt like my meal was simply an afterthought.
But these
delicious vegetarian recipes for the grill
are anything but afterthoughts. Who needs ribs when you can have
Black Bean & Hominy Succotash with Barbecued Portobello Mushrooms
topped with its own delicious sweet-smoky sauce. Or a hearty
Grilled Eggplant Parmesan Sandwich
, with a fraction of the fat and calories you find in your standard breaded-and-fried eggplant Parm. My go-to vegetarian option is
tofu in Pirate Marinade
, fragrant with orange juice, allspice, cloves and cinnamon. Every time I make it I get requests for the recipe from vegetarians and meat eaters. For the best flavor, let it marinate overnight.