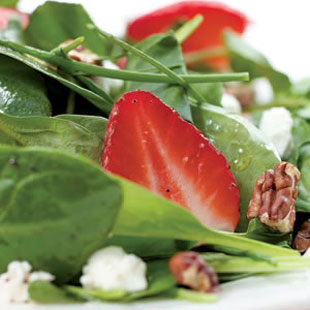 I never really tasted a strawberry until I spent a summer visiting my grandmother on her family's tiny island off the southeastern coast of Norway. Sure, I had eaten strawberries before. They usually came from a plastic container, picked out of season, underripe and shipped from some distant location. But after tasting the sweet real thing, I could hardly consider those strawberries anymore. Now, whenever berries are in season, I buy cartons of them (or pick them myself). I love to eat them fresh, but I also have a few
great strawberry recipes
that I go back to again and again.
Here are a few of my favorite savory and sweet strawberry recipes:
Green Salad with Strawberries & Goat Cheese:
This lively salad captures the essence of early summer with ripe strawberries, chives and baby spinach. To make it a meal, top it with grilled chicken breast.
Strawberry-Orange Muffins:
We love the combination of strawberry and orange in this sweet breakfast muffin with a streusel topping. For a less conventional (but equally delicious) twist, try the basil variation. The hint of basil complements the fruity berries wonderfully.
Strawberry Cream:
This chilled strawberry dessert gets creaminess and a touch of tanginess from reduced-fat sour cream. Topped with some ruby-red diced strawberries, it makes a delightful ending to any meal.
Grilled Duck with Strawberry-Fig Sauce:
Here we pair a luscious strawberry-fig sauce with grilled duck for a simple yet elegant main dish. Serve with rice pilaf and grilled vegetables.
Strawberry Sherbet:
Buttermilk gives this sherbet tanginess and complements the fresh sweet strawberries. If you prefer a sweeter result, add a touch more sugar.