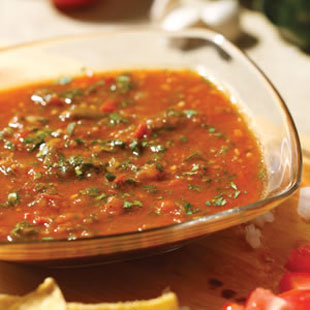 Tomorrow is Cinco de Mayo—olé! We're way too busy this week to throw a proper dinner party on a Tuesday night. Plus it's a "school night," so we're just going to have friends over for a low-key margarita and chips-and-salsa party on our deck. It's a good excuse to get together and unwind after work. And since most salsas taste better with age, I can make them tonight. (And if you do have time to throw a dinner party, check out our
Healthy Mexican Recipe Collection!
)
My favorite salsa is
Salsa Rojo
. It's a homemade version of the tomato salsa served at taco stands and burrito joints everywhere. Try it with all your favorite Mexican foods—it even works as enchilada sauce.
Tomato & Green Olive Salsa
is a zesty spin on standard tomato salsa that includes sliced green olives and hot pepper relish. Serve as a dip with toasted pita chips or spoon over grilled fish or chicken.
Try
Watermelon Salsa
with tortilla chips as a refreshing alternative to a tomato salsa. Sweet, savory and crunchy salsa accompanies grilled pork or chicken rather nicely.
Crisp, peppery diced radishes, sweet, juicy mango and tart lime juice have opposing flavors that come together here to create salsa nirvana in
Mango-Radish Salsa
. Serve with grilled fish, steak or chicken or just put out a dish of it with some crisp baked corn chips.
Tomatillos are delicious raw, but they take on a sweet, smoky flavor when cooked on the grill for this
Grilled Tomatillo Salsa
. This quick salsa is delicious on a chip, makes a great topping for grilled meats and fish and it's excellent with eggs and corn tortillas. If you like, add some diced avocado just before serving.