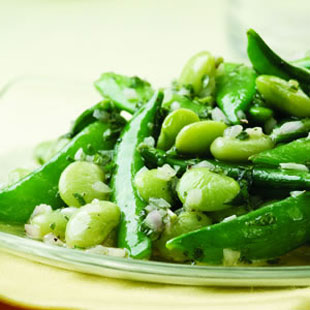 When I was researching
sugar snap peas
to write a column for EatingWell, I discovered a man by the name of Calvin Lamborn. You've probably never heard of him—I hadn't. But Mr. Lamborn deserves a round of applause because he's the guy who made sugar snap peas so sweet and succulent that you want to eat them raw. Though edible-podded peas have been enjoyed for hundreds of years, Lamborn accidentally developed snap peas in the late '60s while breeding shell peas. Though sugar snap peas are a cultivar of snap peas, you'll most likely see them called "sugar snap peas" at the grocery store.
Enjoy a delight of early summer tonight with one of these snappy sides. Bonus: A 1-cup serving of the versatile vegetable gives you one-third of your Daily Value of vitamin C and 3 grams fiber.
Lemon-Mint Snap Peas & Lima Beans
: Fresh-tasting lemon-mint vinaigrette dresses up snap peas and lima beans in a hurry. The creamy texture of limas is a perfect counterpart to the crunch of the sugar snap peas. Try this vinaigrette with asparagus and green beans too.
Fresh Herb & Snap Pea Salad
: Quickly cooked snap peas retain their distinctive crunch, becoming the star in this simple green salad.
Italian Roasted Snap Peas
: Serve this Italian-inspired combination of sweet snap peas, leeks and tomatoes with roast chicken or garlic-rubbed grilled steaks.
Sugar Snap Pea & Barley Salad
: You get two sides in one with this dish—whole-grain barley along with crisp matchsticks of vitamin- and fiber-rich snap peas. Serve with roasted or grilled salmon or chicken.
Chilled Snap Peas with Creamy Tarragon Dressing
: Crisp chilled snap peas with creamy tarragon dressing make a nice alternative to a lettuce-based salad. The dressing can be doubled and used for chicken salad. Substitute fresh or dried dill for the tarragon if you like.