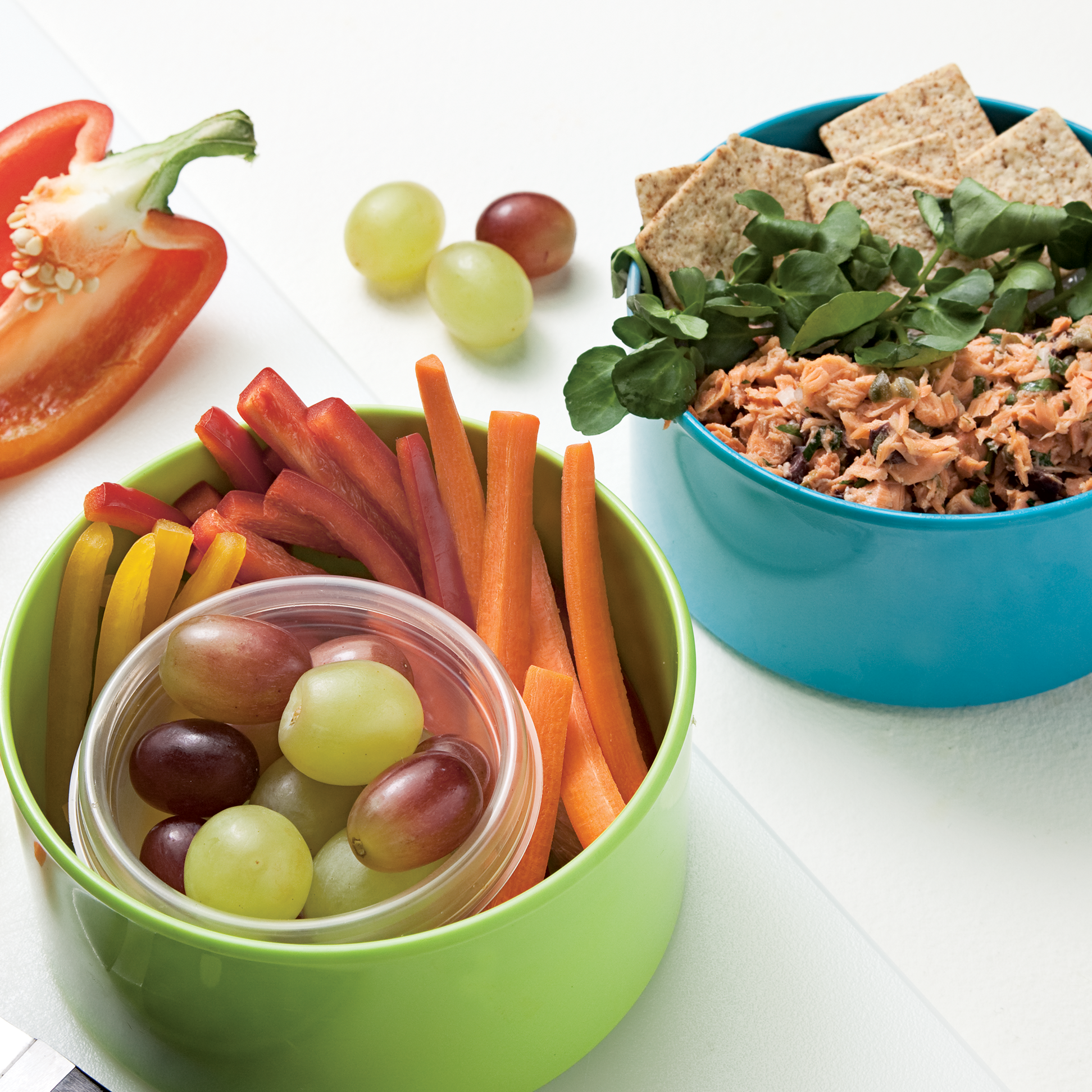 My daughter is only 4, so we have another year until she starts school. But I still pack her lunch for daycare every day. One of the easiest ways to make sure she has a healthy lunch is to use a Japanese-style bento box.
Lila has used the same bento box for the past three years—I secretly love to use it too (it's the ultimate portion-control tool). The stainless-steel container is divided in quarters. When she was younger, she ate mostly finger food, so I put different chopped things in each section.
Now that she's older, the division still holds true. Even if I pack a sandwich in a separate baggie, her box still prompts me to put fruit and veggies in each day. I usually add a little ranch-style dip or hummus for dipping the veggies. Fruit often spills into two of the spots.
Are you ready to bento?
Here
are 5 tips to pack a bento-style lunch:
• Pick your container: Bento boxes come in styles for all ages. Basic reusable food-storage containers work well too.
• Get creative: Sandwiches and wraps work in a bento, but don't forget less-typical lunch fare, such as roasted tofu, rice balls or pasta salad.
• Think colorful: Typically a bento contains at least five different colors—fill yours with a variety of fruits and vegetables.
• Pack efficiently: Pack foods in small containers to control portion size and use reusable silicone cupcake liners or even lettuce leaves to keep foods separated.
• Keep it cool: Refrigerate or pack the box in an insulated lunchbox with a freezer pack.
Here are 4
bento
-style lunches to get you started:
| | |
| --- | --- |
| | Pizza Roll-Up Bento Lunch: This easy pizza-inspired roll-up is a kid-pleaser. Make crunchy vegetables more appealing by selecting colorful varieties like orange and purple cauliflower—and don't forget the dip! Keep 'em smiling with watermelon cut into fun shapes with cookie cutters. |
| | Salmon Salad Bento Lunch: Watercress acts as a tasty divider between the salmon salad and crackers. Multicolored peppers and grapes add color to this bento and boost your daily servings of fruits and veggies. |
| | Soy-Lime Tofu & Rice Bento Lunch: Tofu, rice and vegetables are classic bento ingredients. Make extra rice for dinner and roll leftovers into balls for lunch. To keep green veggies vibrant and crisp, cook them briefly and immediately dunk them into a bowl of ice water. You can also use cubed store-bought baked tofu in place of the roasted tofu. |
| | Egg Salad Bento Lunch: This egg salad bento box is a hearty lunch and snack all in one. Spoon the egg salad into a lettuce "bowl" and enjoy with cocktail bread and veggies. Toss banana and blueberries with yogurt to keep the bananas from turning brown. Save the chocolate chips and pistachios for an afternoon pick-me-up. |
Sources for our favorite bento boxes:
bentology.com
,
lunchbots.com