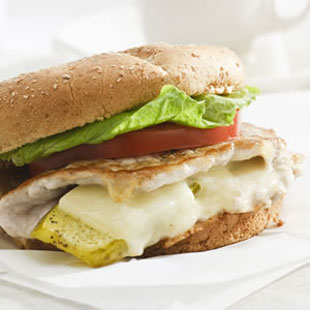 I'm one of those people who insists on doing her own taxes. I like to see exactly where my money is going, and usually, it's not going where I want it to. So instead of going out to a local dive bar for a burger and fries to ease the stress, I'm going to tighten my belt and make these
delicious recipes for cheap eats
. Take the
Stuffed Pork Sandwich
, for example. At 353 calories it still has that ooey goey melted cheese that I crave without all the calories, plus at $3 a serving it's better for my bank account. Feel like going to the local cantina for dinner? Save some money by preparing some
inexpensive Mexican food
at home. The beauty of Mexican food is that you don't need to invest in expensive ingredients to have a delicious meal.
What some more budget-friendly inspiration for tax season? Here are a few of my favorite recipes from our
budget-friendly recipe collection
:
Stuffed Pork Sandwich
(under $3 per serving): The classic Cuban sandwich inspired this recipe. The original is made with ham, roasted pork, Swiss cheese and pickles pressed and griddled between two pieces of soft white bread. Our version cuts down on the meat and is served on a soft whole-wheat bun. Feel free to press it in a panini maker to make it crispy. Serve with vinegary coleslaw.
The EatingWell Taco
(under $2 per serving): Building the perfect taco is a very personal task—cheese under meat, cheese on top, no cheese at all? The order of events in this recipe is just our recommendation.
Skillet Gnocchi with Chard & White Beans
(under $2 per serving): In this one-skillet supper, we toss dark leafy greens, diced tomatoes and white beans with gnocchi and top it all with gooey mozzarella. Serve with a mixed green salad with vinaigrette.