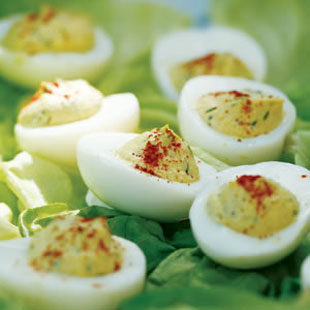 There's nothing more fun than dyeing Easter eggs and hiding them. But once the kids find them, what are you to do with 20 hard-boiled eggs? My co-worker Carolyn hates to waste food so she suggested these recipes for hard-boiled eggs as well as other
yummy egg recipes
. Why throw those brightly colored, yet perfectly good eggs away when they could be turned into lunch or even dinner? Not me.
Here are a few recipes that can use hard-boiled Easter eggs:
EatingWell Deviled Eggs
: Deviled eggs are a perennial potluck favorite. Our recipe replaces some of the egg yolks with nonfat cottage cheese—keeping the filling velvety and rich while reducing some of the fat. No one will know the difference.
Smorgastarta
: Don't let the name intimidate you. This delicious take on the Swedish "savory sandwich torte" is sure to please family and guests alike. We've transformed this traditional smoked-fish dish into a light layered sandwich that captures the essence of Scandinavia. Make it a meal: Serve with a beet salad or steamed red potatoes.
Spring Salad with Tarragon Vinaigrette
: A bold, layered salad that showcases sardines and asparagus, this beautiful dish adds variety to your weekday dining. If you prefer tuna to sardines or have fish from the night before, go ahead and use that instead.
Pan Bagna
: In the Provencal dialect, "pan bagna" means "moist bread." In this lightened version of the classic Mediterranean sandwich, a filling of hard-boiled eggs is seasoned with pungent black olives, mustard and a subtle hint of anchovy. For a truly great sandwich, use the best-quality bread you can find.
Loaded Spinach Salad
: Like many spinach salads, this one features lots of chopped-up hard-boiled egg. But since most of the calories in an egg are in the yolk, we use just two whole eggs, plus the whites from six additional eggs. The result is a rich, eggy, satisfying spinach salad that keeps the calories in check.