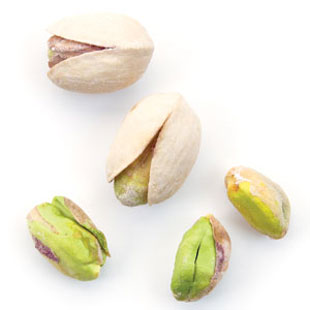 First it was tainted peanut butter.
Now, we're hearing that some pistachios may not be safe.
On March 30, 2009, the FDA reported that pistachios from Setton Pistachio of Terra Bella, Inc., may be contaminated with Salmonella, a bacteria that can cause serious (sometimes fatal) infections in young children, the elderly and others with weakened immune systems.
At the time of the FDA release, there wasn't proof that tainted pistachios had made anyone sick; still, as a safety precaution, Setton recalled about a million pistachio products. The FDA told consumers to avoid eating pistachios and products containing them unless they could verify that the nuts did not come from Setton. (A searchable list of affected products is available on the FDA's website, fda.gov/pistachios).
It's all a little scary, but the good news is this: This recall involves only one pistachio producer.
If your pistachios didn't come from Setton, they're safe. In fact, they're more than safe: pistachios are quite nutritious
. The nuts are an excellent source of copper and vitamin B6. Research suggests that lutein, an antioxidant in pistachios, helps protect "bad" LDL cholesterol from oxidization by free radicals. (Oxidized LDL contributes to the development of plaque in arteries.)
But if you'd prefer to munch on other nuts, there are plenty of healthy options. Here are three others we love:
1. Almonds: A June 2006 study in the Journal of Agricultural and Food Chemistry showed an ounce of almonds provides as many flavonoids—compounds that fight free radicals and reduce inflammation—as a 1/2-cup serving of broccoli or a cup of green tea. Try them in
Flourless Honey-Almond Cake
.
2. Pecans: In the journal Nutrition Research, researchers from Loma Linda University reported that pecans contribute significant amounts of gamma-tocopherol, the major form of vitamin E in U.S. diets. Pecans also provide notable amounts of zinc, a mineral most often found in animal-based foods. Try them in
Cajun Pecan-Crusted Catfish
.
3. Walnuts: Walnuts contain alpha-linolenic acid (ALA), an omega-3 fat linked with reduced risk of heart disease, improved glucose control and stronger bones. In a study published in Nutrition Journal, increasing intake of ALA via walnuts and flaxseed oil decreased the rate of bone breakdown. Try them in
Maple-Walnut Tapioca Pudding
.