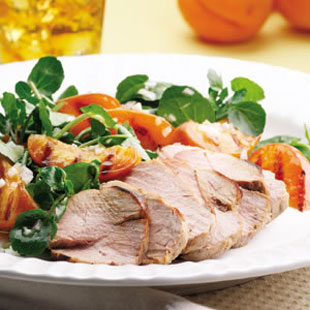 At long last spring is here (though it sometimes feels like it takes an eternity!) and for me that means one thing: time to break out my grill. Some of my favorite
spring recipes
are great for the grill, which keeps me out of the kitchen and enjoying the longer hours of daylight. Take full advantage of the nice weather with a few of my favorite spring grilling recipes:
Grilled Pork Tenderloin & Apricot Salad
: This grilled pork dish offers a triple hit of the fruit with an apricot preserve glaze for the tenderloin plus a grilled apricot and watercress salad with an apricot-spiked vinaigrette. Serve with grilled whole-grain country bread and a chilled Chardonnay, which will harmonize beautifully with the smoky-sweetness of grilled apricots.
Cashew Salmon with Apricot Couscous
: Yogurt sauce flavored with lemon, cumin and cilantro tops this Indian-inspired grilled salmon and apricot couscous. Try this quick, easy recipe for entertaining. Serve with steamed snap peas and a glass of gewürztraminer.
Prosciutto-Wrapped Asparagus
: These prosciutto-wrapped bundles of grilled asparagus are a delicious addition to a spring brunch or elegant dinner.
Grilled Artichokes
: Artichokes are most often served steamed, but grilling them adds a smoky dimension to their flavor. If you can get them, first-of-the-season baby artichokes will yield extra-tender results—double the number of artichokes and reduce the cooking time as needed.
Poblano & Skirt Steak Fajitas
: This variation on fajitas pairs fresh poblanos with steak and scallions. Skirt steak has fabulous flavor but tends to be chewy, so slice it thinly across the grain.