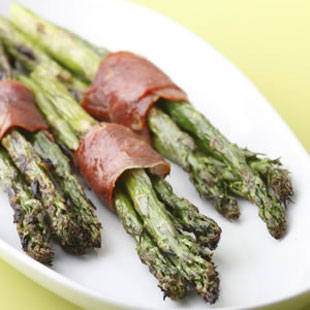 I love spring
, but there are some things about spring I don't love so much. Being woken up in the middle of the night by the oh-so-loud chorus of peepers (aka cute little frogs), for instance. Or walking my dog through ankle-deep mud at the park so she doesn't destroy our apartment due to lack of exercise. But things start to look up a bit on those walks when I see the first bright red buds on maple trees and smell that iconic "spring" smell in the air. Then I see them: my neighbor's first stalks of asparagus poking through the ground. That's my signal to get to the farmers' market for the first local
asparagus
of the year. Get the recipe:
Prosciutto-Wrapped Asparagus
Then it's time to get cooking. Though I love über-simple roasted asparagus (toss with oil, salt and pepper and roast at 450°F for 15-20 minutes), a little fanfare is fun too. I love wrapping
thin slices of prosciutto around bundles of asparagus
and tossing them on the grill for a bit to make delicious side dish for entertaining. And speaking of entertaining,
Shrimp & Pesto Pasta
, made with a few choice store-bought ingredients, is perfect for when friends are coming over on a busy weeknight.
Toss lightly steamed asparagus with crunchy radishes and a gingery sauce
or
top roasted asparagus with a Caesar-inspired sauce
for quick and easy side dishes. Unless you're lucky enough to have a patch in your backyard, grab a bunch of asparagus from the market and celebrate spring's fresh flavor. Asparagus Tips
At the market: Look for sturdy spears with tight heads; the cut ends should not look dry or woody.
Storing asparagus: Trim the ends of spears and stand them upright in about an inch of water, cover with plastic and store in the refrigerator for up to 3 days. Or wrap ends with a damp paper towel and store in a plastic bag for up to 3 days.
Kitchen prep: To trim, cut or snap off stem ends; remove any remaining tough skin from the end of the spear with a vegetable peeler, if desired.