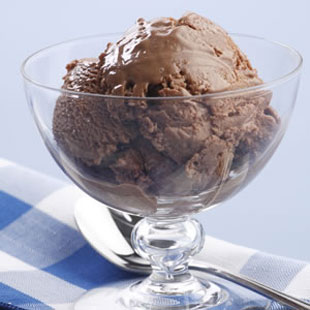 I know as well as anyone that dietary slips often have a domino effect. For example, I'm most likely to crave ice cream after eating several pieces of cheesy pizza. After I indulge the craving, the guilt sets in. Then, I have to remind myself that one less-than-perfect moment will not undo my week of cooking
delicious low-cal recipes
.
Beating yourself up when you don't eat as well as you'd like to won't help you to manage your weight. In fact, it may even get in the way. So stop it! Be nice to yourself. Need some help remembering how to do that? Here are
ways to stay positive about weight loss
.
1. Stop outlawing foods. Sometimes you're tempted by a food simply because you've sworn off it as "forbidden." Then, if you can't resist taking a bite, it's easy to slide into an all-out breakdown. It's OK to have one cupcake or a small portion of ice cream, every day even, if you account for those calories elsewhere. (
Keeping a food diary
can help you to budget in foods that seem indulgent.)
2. Set (reasonable) limits around treats. Rather than proclaiming, "I will never eat pizza again," try something more like this: "I'll try to choose alternatives to pizza most of the time, but when I do have some, I'll just have one slice and enjoy it."
3. Combine indulgent foods with filling ones. If you usually eat two or three pieces of pizza, one won't seem very satisfying if that's all you eat. Have a
side salad
or another low-calorie veggie dish, such as
Simple Sauteed Spinach
(68 calories) with your slice (or your smaller serving of mac and cheese).