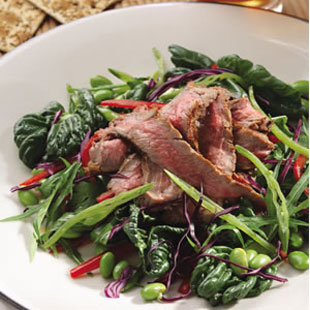 Going to a movie before dinner is a recipe for diet disaster. I used to end up sharing a large (translation: humongous) popcorn with my husband and sneaking some of his Sour Patch Kids to boot. I left the theater feeling full but hadn't eaten any "real" food. Now, before I go to a show, I try to have a dinner with plenty of lean protein and fiber to keep me satisfied, such as
Seared Steak Salad with Edamame & Cilantro
. Then I'm not ravenous at the movie and I'm content to split a small popcorn.
It took a little trial and error to find a healthy-eating solution
but it's one that works!
Perhaps you're plagued with different diet-busting situations? Try these quick fixes.
Problem #1: You crave something sweet.
Solution: Budget lower-calorie treats into your day. I look forward to having a
Double-Chocolate Biscotti
(under 100 calories!) with a cup of coffee after dinner.
Problem #2: Your stomach is growling.
Solution: Pack your diet with foods that help you to feel full on fewer calories. Studies show that
soups
and salads are particularly satisfying.
Problem #3: You want to gorge yourself on snacks.
Solution: Eat snacks that come in single-serving packages—or measure one serving into a bowl. When it's gone, you're done. Or make your own snacks, such as
Cheesy Popcorn
—just 75 calories for 1 cup.
Problem #4: Everything on the restaurant menu looks delicious.
Solution: Elaborate restaurant dishes often are filled with hidden calories, so order something simple, such as a piece of lean meat, chicken or fish, which usually comes with a starch and a vegetable. Restaurant meals tend to be supersized, so
learn how to estimate a standard serving size
and eat just that. Pack up the rest for tomorrow's lunch.