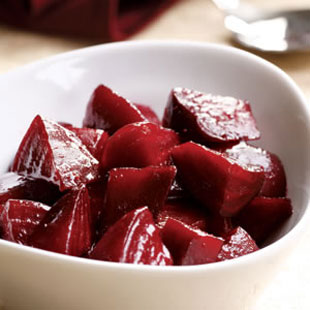 My mother-in-law and I are die-hard beet lovers, but even we don't usually think of having beets on a weeknight because cooking them whole can take up to an hour—who has time for that? So I was thrilled when she and I finally got to chat about 4 quick and healthy beet recipes in the February issue of EatingWell and she practically shouted, "I can't believe I never thought of cutting beets before cooking them!" A revelation!
If you cut beets up first, they need only about 10 minutes in the steamer (see Tip, below). And once you steam them, beets go well with so many flavors. I especially love
Brown Sugar-Glazed Beets
, lightly sweetened with orange juice and brown sugar.
Or if I get a hankering for
a hot bowl of soup
, I'll make
Borscht
, a simple beet soup typically made with beef broth and garnished with sour cream. I try to keep a bag of spinach and a jar of olives in the fridge so I can make
Warm Spinach & Beet Salad
whenever the craving hits. And if we're firing up the grill for steak or chicken, I'll get a batch of
Quick Pickled Beets
in the fridge right when I get home so they can marinate for 30 minutes before we sit down to dinner, they pair nicely with grilled meat.
Here are a few tips on cooking beets to get you started:
* How to Prep & Steam Beets: Trim greens (if any) and root end; peel the skin with a vegetable peeler. Cut beets into 1/2- to 1-inch-thick cubes, wedges or slices.
* To steam on the stovetop: Place in a steamer basket over 1 inch of boiling water in a large pot. Cover and steam over high heat until tender, 10 to 15 minutes.
* To steam in the microwave: Place in a glass baking dish, add 2 tablespoons water, cover tightly and microwave on High until tender, 8 to 10 minutes. Let stand, covered, for 5 minutes.